Last Updated on Thursday, May 26 2016 14:54
In anticipation of the upcoming Memorial Day weekend, which ushers in the "busy season" for many aquatic facilities, we're going to look at a few impressive projects we've done over the years. Swimming consistently makes the top 10 or top 5 of most-popular recreational sports/activities. Residents or visiting guests want an inviting aquatic facility to enjoy. What if your center went one better and became a true recreation destination? Read below to see how RenoSys did just that...
From Woebegone to Wow
Nothing lasts forever, and that includes your pool. When your pool was built in a different century, eventually it's going to need a lot of work. Even if your pool isn't failing, is it still inviting? A diving board and water often aren't enough to compete with more modern, exciting centers. RenoSys has taken old pools and transformed them: we added water-play elements, and current designs, like zero-depth entry, that appeal to patrons of every age.
Below are the "after" pictures of a community pool in Morris, IL. The original pool dated to the 60s and was pretty standard for that era – a diving board and not much else. As you can see, the finished product is a water-park style appealing new pool, complete with slides, a spray park, and zero-depth entry for young guests. What was once an average community pool is now a local recreation destination!
Another pool that was outdated and in need of renovation is this pool: Rainbow Beach, in Vincennes, IN. The community valued their local pool so much that a grassroots effort to raise money and build the pool made it all possible. Now Rainbow Beach is a local summer hot-spot, sporting slides, water-play features like Maui the Whale, as well areas just for kids.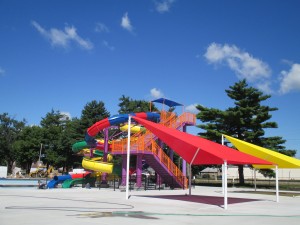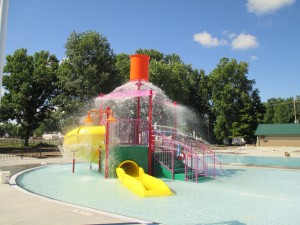 New Construction on a Much-Needed Pool
How about a great local amenity built to be great from the start? We have that, too. The outdoor pool at the Ft. Ben YMCA had been promised for years, leaving locals frustrated. RenoSys transformed an empty patch of grass into a busy summer spot. The YMCA pool has a slide, swim lanes, a zero-depth entry with water-play spray and water bucket-dump features. Now guests have a terrific pool right around the corner - which also draws visitors from neighboring areas!
Swimming is a huge part of Memorial Day weekend for many people: make your aquatic facility part of their holiday weekend and a busy-season (or year 'round) destimation. If your aquatic facility can't keep up with more current, inviting facilities, don't despair. If you're looking to build a new aquatic center and want to start it off right, we can help there, too. RenoSys has been an aquatics industry leader for almost 30 years. We have the knowledge, services, and product line to create a great pool that will make your Memorial Day weekend as great as the rest of your year. Our team of knowledgeable aquatics professionals is ready to help get your pool project off to a great start. Don't let your water worries get you down – call us today. You can call us toll-free, email us, or even Get a Quote right on this page. We're also on Facebook, Twitter, and Instagram – connect with us today!
800-783-7005
This email address is being protected from spambots. You need JavaScript enabled to view it.