RenoSys Blog
Last Updated on Tuesday, May 23 2017 20:03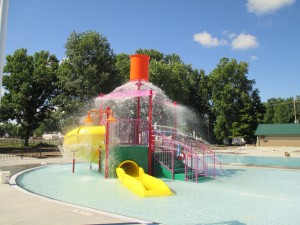 Every year, the semi-official opening for thousands of aquatic centers is Memorial Day weekend and the the start of the summer swimming season. What makes your aquatic center stand out from the rest and keep drawing guests in every summer? Or is your pool fading in popularity and losing out to newer, more inviting aquatic facilities in your area? What is it that brings guests in – or worse, drives them away? We'll give you some ideas for increasing retention of your current patrons as well as enticing new guests to your pool.
Have a Little Something for Everyone
Pools have come a long way, design-wise, since a pool was just some water and a diving board. These days, even your local community pool can boast exciting amenities for all ages, allowing everyone to enjoy the facility. If you're not thinking of all your guests, you're definitely missing out on a winning design.
Even the very youngest guests, for instance, can benefit from a well-designed pool. A zero-depth entry is a great way to allow children to splash and play in a safer entry area, without the worry of stairs, rails, pool walls, and edges. Older kids will enjoy elements like creative water play features, dump buckets, lily-pad style floating crossings, water climb walls, and of course, water slides.
One facility we renovated began life as a standard 1960's era pool, with a simple diving board. After the renovation, it had multiple slides, a zero-depth entry for swimmers of any age, and an entirely separate splash area for kids. This is exactly the type of facility that lures in new guests and keeps them returning each season; every member of the family can enjoy part of this pool!
A renovation is an excellent time to assess your own pool and create a more inclusive design at your aquatic center. By adding features that appeal to a wide variety of guests, you'll create interest and excitement on your opening day!
Keep Your Center Appealing and Safe
Look around your aquatic facility and try to see it through the eyes of your guests. Is it inviting and appealing, or has time been hard on your pool? Cracks and chips in your pool deck, a leaking pool interior, and an inferior or lacking safety system are just a few things that may cause attendance to drop at your facility this busy season. By renovating the entire facility or upgrading those areas that need the most attention, you can ensure that your pool will be inviting and reliable, and create a safer experience for all your guests.
Example of RecDeck PVC flooring
You might not think about your pool deck but the difference an attractive and safer pool deck makes is impressive. We recommend our PVC recreational flooring, RecDeck™. It's highly-textured for additional traction and security, and it's also formulated with biocides to resist common organic growth and uv-inhibitors to stay colorfast. Our flooring encapsulates the original deck in a thick layer of watertight PVC that won't chip, crack, or peel.
PVC pool liner close-up
For a leaking pool, our PVC commercial-grade pool liner is ideal to create a like-new, leak-free pool interior. A PVC pool membrane is a smart solution for any pool – new or old. The pool shell will cover the entirety of the pool vessel itself, easily sealing cracks, gaps, chips, and holes in a thick layer of watertight protection. A PVC membrane is also comfortable, often being preferred by guests to traditional, rougher pool surfaces.
A solid safety system is vital no matter how big or small your facility, and regardless of your pool components and attractions. We recommend our SoftSide™ padding; we offer both common ready-to-order pads as well as custom pads for uncommon/unusual components or pool elements. Our padding is thick safety foam covered in a layer of tough PVC that is pore-free for easy cleaning. Our pads are available in 1/2'-4" thick and meet CPSC standards. They're also endorsed by noted aquatic safety expert Dr. Tom Griffiths!
With the busy season ready to begin, it's important to ensure that your facility can compete with nearby aquatic centers. Whether you need to upgrade certain pool elements, or you're ready for a full renovation and want to create a water-park style oasis, we can help with any questions you have. We have almost three decades leading the aquatic industry and a member of our experienced team will be happy to get started on your pool project. You can contact us toll-free, email us, or even Get a Quote from this page. Be sure and connect with us online: like us on Facebook, follow us on Twitter and Instagram!
800-783-7005
This email address is being protected from spambots. You need JavaScript enabled to view it.